ROM World - For All Your ROM Needs
Emulators

Zsnes is arguably the best SNES emulator available. It has a graphical user interface, customizable graphics and sound options, high levels of compatibility and is user friendly. It can be downloaded for Windows, Linux or DOS.
The current version is: 1.51
For more information please visit the zsnes homepage at www.zsnes.com
Snes9x
Snes9x is another snes emulator. It can run some rom images that zsnes cannot. It also has good customizable options.
For more information please visit the Snes9x homepage at www.snes9x.com

MAME stands for Multiple Arcade Machine Emulator. When used in conjunction with an arcade game's data files (ROMs), MAME will more or less faithfully reproduce that game on a PC. MAME can currently emulate over 3000 unique (and over 5400 in total) classic arcade video games from the three decades of video games - '70s, '80s and '90s, and even some from the current millennium.
The ROM images that MAME utilizes are "dumped" from arcade games' original circuit-board ROM chips. MAME becomes the "hardware" for the games, taking the place of their original CPUs and support chips. Therefore, these games are NOT simulations, but the actual, original games that appeared in arcades.
MAME's purpose is to preserve these decades of video-game history. As gaming technology continues to rush forward, MAME prevents these important "vintage" games from being lost and forgotten. This is achieved by documenting the hardware and how it functions, thanks to the talent of programmers from the MAME team and from other contributors. Being able to play the games is just a nice side-effect, which doesn't happen all the time. MAME strives for emulating the games faithfully.
For more information please visit the MAME website at www.mame.net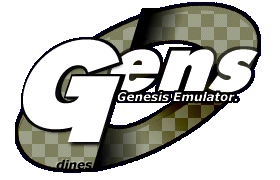 Gens is an emulator for the Sega Genesis and Mega Drive. It is the best Sega emulator available and is compatible with most games. Highly recommended and available to download.
For more information please visit the Gens website at gens.consolemul.com